Silk screen printing and complete familiarity with it
Screen printing is one of the industrial printing methods for images. Today, the printing industry is one of the most lucrative jobs in the world, which has revolutionized the business of factories and manufacturers.In this article, you will be fully acquainted with this type of printing. Stay with us
What are the benefits of silk screen printing?
Silk screen printing on all flat and circular surfaces (round):This type of printing can be printed like tampo printing on industrial parts and promotional gifts, such as: printing on towels, printing on fabric, printing on Nylex, printing on nylon, printing on handbags, printing on glass, printing on cartons, printing on boxes , Printing on balloons, printing on metal sheets, printing on household appliances, printing on disposable containers, printing on plastic and metal bottles, printing on car filters, printing on food containers.Using round and flat pneumatic machines, you can print all the mentioned flat and circular surfaces. And get all the capabilities of this type of printing and the printing and advertising market.Printing and circulation costs:Unlike many types of printing, which is not economical and capable of low-volume printing, in this type of printing, printing is not limited and is fully applicable both economically and in terms of circulation.Variety and work with colors:In most prints, a color model with special conditions is used, but in this type of printing, the variety of colors can be changed depending on the product. Such as: Disposable containers that most of the injection materials are pp materials, pp color must be used in printing so that the color on the product is not erased, and also other colors such as pvc color, uv color and water-based color, each of which colors to They can be changed according to the material and type of product in silk screen printing.Print quality and transparency in printing:In most prints, powder and ink are used and after transfer to the cylinder or ring, it is printed in offset printing on the product, but in this type of printing, color printing is printed directly on the product, which causes high brightness and transparency of the print. Is.Workshop space:You can do at least 3 * 4 of this type of printing in the least space. Easy to train and install and with the lowest cost you can have an independent and high-paying job.
Applied colors in silk screen printing
Color in silk screen printing, which is one of the requirements and services of silk screen printing, depends on the type and material of the product. Here are some examples of colors and their application.Pvc color: mostly used for industrial parts of abs and polyethylene and nylon, boxes, cartons and document covers (retard solvent).Pp color: Used for industrial parts and disposable containers and buttoned folder (retard solvent).Oil color: for nylon, Nylex and box, but dries slowly (gasoline solvent).Orient and Bigment color, plastisol: for printing fabrics and T-shirts is done prominently (opening oil solvent).When choosing a color, you must be careful that the color you want to print with the product you want to print must be the same family. In the color table, the 5 main colors blue, red, yellow, black and white are used in the printing industry. Combining these colors can create other colors as well.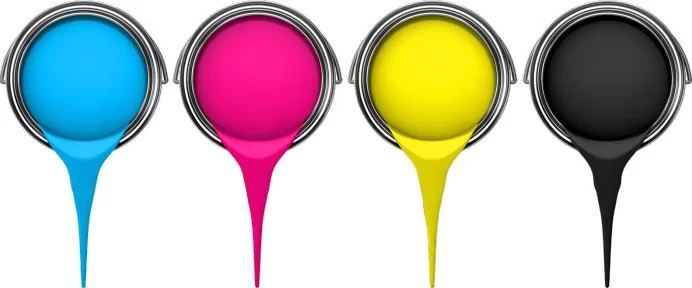 One of the valuable features of this type of printing is the erasure of the design from the stencil, which allows us to photograph the stencil again.This advantage makes it possible to use the same template many times. Of course, the type and quality of the net play a big role in this. At this stage, two methods are used.Vitex: Put the stencil mesh in Vitex solution for a few hours, then wash with a towel and water. This method is almost outdated and causes the net to rot and disappear quickly.Stencil cleaning powder: This method mix the stencil cleaning powder with 8 liters of water and make it liquid, then spray on the surface of the stencil and then clean the stencil with retard solvent and cotton. This method does not harm the stencil material.
Practical and experimental tips
Template does not appear: The template may not appear correctly. Care must be taken in the composition; Varnish and sensitizer, low light environment, drawing sensitive materials on the silk screen printing in a thin layer and the amount of stencil lighting is done correctly. If the stencil loosens and spills completely when the lacquer appears, the amount of light is low and vice versa. If the resistance of the stencil is high and does not appear, the amount of light has been high.Template clogging during printing: Alternatively, the silk screen printing system is open and the air that is dyed may cause the ink inside the template to harden and clog. In these cases, we must dilute the ink with solvent and clean the template from below with solvent. Clog, then test a few samples and then start working.Shading the print: In these cases, the pressure of the paddle and the loose color are the main factors.
Uses of silk screen printing
Silk screen printing can be printed on nylon, Nylex, calendar, deadline, document cover, glass, promotional gifts, industrial parts, suit cover, fabric printing, carton box, bag, shoe, electronics, button folder, print Used on disposable tableware, balloon printing and..
Application of silk screen printing in industry
From silk screen printing machine in automotive, plastics, electronics, medical goods, food and dairy, sports equipment, toys, health and beauty products, detergents and disposables, disposable tableware, promotional gifts, nylon, Nylex, calendar , Deadline, Box, Carton, Fabric, Besco, Leather, Document Cover, Buttoned Folder, Label, License Plate, Balloon Printing, Labeling of Industrial Parts, Car Pads, Car Oil Filter, Car Air Filter, Home Appliance Parts, Vacuum Cleaner, Washing machine, heater, oil bucket, yogurt bucket, food utensils, porcelain, tile industry and… can be used. It also has many applications in the industry and in the printing market of promotional gifts.