Carton making is one of the important needs of the industrial community of our beloved country Iran today. This is our belief, because despite the production of various products by manufacturers and their urgent need to package their products, carton making and carton boxes have become an important and necessary thing.Hello, Welcome to the BTM Packaging Industries website.In the following, we intend to thoroughly review the carton making and corrugated cartons and the items that we have listed below, and we hope to be able to provide you with good advice in this regard.
Carton and cardboard boxes are one of the best ways to pack and distribute goods today, which are always in contact with us and play an important role in our daily lives.We see these boxes in the packaging of various consumer products, in the market and even behind the trucks carrying the post office.Although its ubiquity makes us think that carton has always played a role in our lives, the truth is that it was not invented until the mid-nineteenth century, and its first use was far removed from what we know today.
The carton industry is, in the first place, a simple definition of the process of combining corrugated paper (flute) with two flat papers, which are placed as a liner on both sides of the corrugated paper. Finally, with this process, three-layer cartons are made.Secondly, the carton is made, which can be in different thicknesses and in three layers, five layers and seven layers, cut into sheets of different sizes to be used to make cardboard boxes.In the BTM packaging industry, we strive every day to provide services tailored to customer needs and innovative and creative products, and we are firm in this way.
Carton history and carton making
Carton plays an essential role in our lives today and we use it in the packaging and distribution of products.Although its ubiquity makes us think that carton has always played a role in our lives, the truth is that it was not invented until the mid-nineteenth century, and its first use was far removed from what we know today.It all started in England in 1856, when Edward J. Haley and Edward E. Allen invented a process by which paper was corrugated and folded.Their goal was to put this paper inside the hat to make it more flexible and durable and easier to wear.It was almost 20 years later that corrugated paper began to be used in New York for packaging and what we know today, and corrugated paper was used to protect goods because of their high strength and impact resistance.In 1871, Albert L. Jones was the first to use corrugated paper to wrap and protect goods.He used these corrugated papers to wrap glass bottles and incandescent bulbs.In 1874, another American, Oliver Lang, advanced the idea of ​​Albert Jones by adding two flat sheets under and on corrugated paper.Oliver Long's idea of ​​corrugated paper strengthened its flexibility and attenuation without deformation, and eventually Carton, as we know it today, was born, but its full potential had not yet been exploited.In 1894, the first carton boxes were made in the United States by Henry Norris and Robert Thompson. A year later, Wells Fargo used the boxes for transportation.Not only were these cardboard boxes cheaper and lighter than traditional wooden boxes, but they were also easier to maintain.Finally, experience and use have proven that cardboard boxes are ideal for packaging due to their light weight, flexibility, low cost and high strength.At the beginning of the 20th century, the popularity of cardboard boxes increased and has remained intact to this day, to the extent that they are synonymous with reliability and durability.
What is corrugated cardboard?
Corrugated or corrugated cartons consist of two main components, which are: corrugated paper and liner paper. Both are made of special heavy paper called "packing cardboard".Liner paper is a filter paper that is used on the outside of the carton and inside the structure of some cartons. These papers are also called "liner".Conglomerate paper is corrugated or corrugated paper, also called "flute", which is glued between liner papers.
Architects have known for years that an arc with a suitable curve is the strongest way to cover a given space.The inventors of corrugated cardboard applied the same principle when using the arc in the middle striped section.In carton making, these arches are known as flutes, and when glued to liner paper, they resist bending and pressure in any direction.
When the liner paper is placed on the corrugated paper, the corrugated paper arcs form the columns that can support a large weight.The flutes separate the liner papers, maximizing the strength of the carton. If pressure is applied to the carton, the space between the flutes acts as a cushion to protect the contents of the box.Flutes can also act as an insulator to protect some products from sudden changes in temperature. At the same time, liners protect the flutes from damage by adding resistance.There are several types of flutes. Each of these flutes is named and has the same size, but the profile of the flutes and the number of flutes per foot may be different.In the following topic of corrugated cartons and carton making, we will define flutes:
The main design is a wavy flute, which is a thick type.This type of flute has a great thickness and strength and can be used to package fragile products.Number of flutes: There are 33 flutes per footThickness: 4.5 to 5 mm
Flute B was developed to package products such as cans that were self-supporting.This flute has more flutes and less thickness than flute A.Flute B has a hard surface and good puncture resistance, and is of good quality when cut and printed.Number of flutes: There are 47 flutes per footThickness: 2.1 to 2.9 mm
It is known as the versatile flute and is therefore the most widely used flute in carton making.This flute is widely used for transportation and is used for packing fragile products, dairy products, etc.Number of flutes: There are 38 flutes per footThickness: 3.5 to 3.7 mm
Flute E has a relatively flat surface and is of high quality for printing.This flute is small in thickness and is suitable for storage and storage.Flute E is used for folding cartons and is used in the packaging of delicate cosmetics.Number of flutes: There are 90 flutes per footThickness: 1.1 to 1.6 mm
Flute F is also suitable for small folding packages and is used for packing products such as shoes, jewelry, etc.Number of flutes: There are 125 flutes per footThickness: 0.8 mmIn recent years, in addition to the steady expansion of flute profiles, there has been an increase in the method of flute measurement. Flute profiles are very different, as they are made to handle different aspects (such as speed, carton characteristics, economics, etc.).
The image below shows four types of corrugated cartons (composite cartons) that are made using liner paper (liner) and congress paper (flute):Two-layer (single face): consists of a corrugated corrugated paper glued to the liner paper. Three-layer (single-walled): consists of a corrugated corrugated paper between two liners (liners). Five-layer (double-walled): consists of three liner papers (liners) with two congressional papers between them. Seven layers: consist of four liners (liners) with three congress papers in between.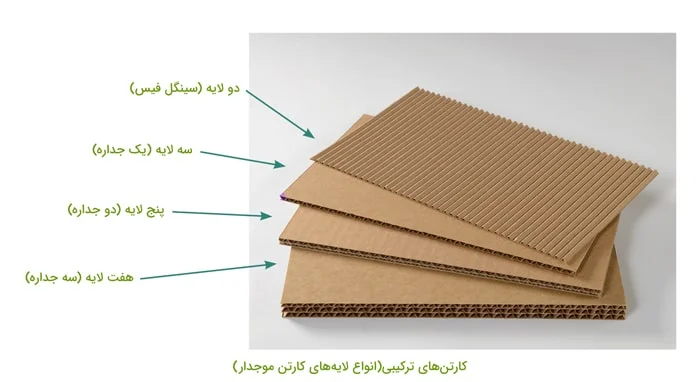 In general, larger flutes have excellent impact and impact resistance, and smaller flutes offer ideal graphics and printing capabilities.Each flute has its own characteristics and is used for packaging and distribution of different products.Smaller flutes have an advanced structural capability and are suitable for packaging small products.Larger flutes have a very high resistance and are suitable for transporting and packing large products.
Geometric shapes of cartons according to FEFCO standard
Cartons can be used to transport all products, from apples to washing machines.By changing the design of the carton and combining its layers, a variety of carton boxes can be made, which can effectively store or carry any product.The standard geometric shapes of cartons are known in three ways: by a descriptive name, by an abbreviation based on that name, or by an international code number.The International Code System, known as the IFC Code, was developed by the European Carton Packaging Standardization Organization (FEFCO) with the help of the European Hard Packaging Association (ESBO), so that they do not get confused when communicating with different languages ​​and all design issues in carton making. Be easily understood.The following figures show some common carton geometric designs.Note that there are many other standard styles that manufacturers can use.In addition, cartons can be custom designed and manufactured to meet customer needs.There are many standard geometric shapes, some of which are briefly covered in this article, and we plan to address them in full in a separate article in the future.Stay with us …
This set of cartons is made in one piece and their assembly is in the form of glue or mango.It is the most widely used collection and in Iran, ordinary cartons are called slotted and cut.
FEFCO International Code: Series 02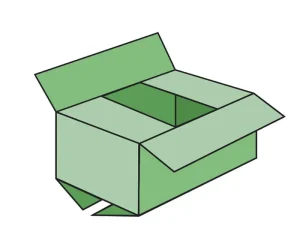 0201Ordinary slotted carton (RSC)
In this set, cartons are made in two or more pieces.In Iran, this type of card is called "floor and door" and cartons such as: shoe box and banana carton are cartons made by telescopic method.
FEFCO International Code: Series 03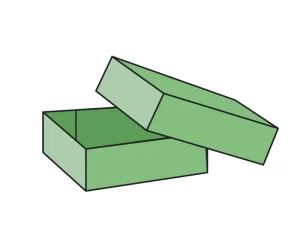 0301Carton with full telescopic design (FTD)
In this set, like the 02 series, the cartons are made in one piece, but with a different use, this set is used to make folders and trays.Pizza boxes, tissues, shoe boxes and some cartons without fruit packaging are in this collection.
FEFCO International Code: Series 04
0401One-piece folder (OPF)
In this set, a part of the carton body is reinforced by gluing another sheet. Gluing the sheet is done with glue, staples and other methods.By gluing the extra sheet, the strength of the carton increases and for this reason it is called hard box.These boxes are used for packaging various products.
FEFCO International Code: Series 06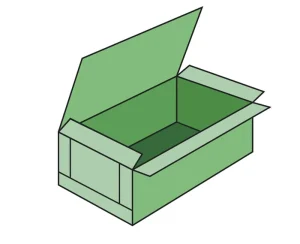 A0601Bliss type box with end flap
Ready-made or glued boxes
In this set, instead of simple locking, glue is used to glue the edges and flaps.These boxes are mostly used for packing all kinds of fruits.
FEFCO International Code: Series 07
0760Ready-made or glued hexagonal box
It is made in a set of parts that are inside the carton and are often used for internal division of the carton.In fact, this set includes inner liners, pads, partitions, dividers, etc. that are used inside the carton. And are designed to be connected or separated.
FEFCO International Code: Series 09
Why should we use corrugated cartons?
Corrugated cardboard is not just a brown box!
Corrugated carton is a design, fabrication and delivery system with very high efficiency.Corrugated carton is preferable for product packaging, for the following reasons:
Durable
Versatile and flexible
Light weight and more power than light weight
High stability
environment lover
Made of renewable materials
Customizable
protection
Has attractive graphics and icons
Cost-effective
So what exactly is a carton?
An engineered product with advanced technology
What may come as a surprise to many is that corrugated cardboard boxes have always been high-tech:Ongoing development programs are constantly trying to improve features such as power-to-weight ratio, printability, lack of moisture and recyclability. Carton components, designs as well as final products are produced with sophisticated and automatic equipment that reduces costs and ensures consistent and stable performance. Most corrugated products are designed with advanced computer-aided systems and offer customers the best and most cost-effective packaging solutions.
Infinite adjustment and customization!
Corrugated cartons offer many features such as flute in different sizes, light weight, coatings and dividers, flame retardant and impact resistance.Corrugated cartons are the only durable and hard boxes used for packing and transporting dry goods and other goods.Cartons can be designed and produced in many shapes and sizes, and can even be printed in color and with high resolution (methods such as lithography and flexography).Corrugated cartons are also custom designed to protect your product, fit on your shelves and provide you with transportability (such as the inner packaging, which prevents your product from moving inside). .
Corrugated cardboard brings high structural strength and flexibility. Corrugated cardboard protects the products inside in an optimal environment, so if there is a heavy or fragile object inside, it will not be damaged.Corrugated cardboard is very resistant to tearing, stretching and bursting and even to pressures during transport.The carton is resistant to impact and shock damage and has the ability to distribute weight and accumulate evenly.Cartons can be designed to contain bulk, granular or loose products and even hazardous materials.It is also used to carry fresh liquids and foods by adding stimulant liners that prevent moisture from reaching the products.All of these, including light weight, low cost, reusability and recyclability, are the advantages of corrugated cardboard.
It is attractive in terms of appearance and graphics
The corrugated cardboard is like a mobile billboard, showing the eye-catching image of the product wherever it goes.Cartons are a planned and attractive product, which are produced quickly and can be easily recycled after use and advertising.Corrugated carton is very flexible, giving you a wide range of printing options to meet your needs and those of your consumers:Offset printing and rotogravure (in high volumes) Flexography or letterpress printing (in a short period of time) silk screen print Laminate printing Carton can be printed directly in the factory or produced with high quality color graphics
Corrugated cartons are one of the cheapest and most cost-effective boxes ever made. The total cost of producing shipping cartons is usually a small amount of the value of the goods they carry.The cost of labor and tools required for the production and transportation of cartons is relatively low.Due to its light weight and compact density, the cost of transporting cartons is lower than other packages.The process of using lighter raw materials reduces shipping costs. The low cost of raw materials and mass production of corrugated cartons make them particularly economically viable.Cost reductions occur when cartons are used in transportation, storage, advertising, and display side-by-side, in order to keep pace with developments in warehouses and other retail stores.
Corrugated cartons are made from a renewable source and have a very good environmental history. Corrugated cartons are usually always made from recyclable fibers (such as old corrugated cartons, kraft, old newspapers and mixed paper), which keep corrugated cartons away from municipal solid waste and trash. Stay.According to statistics provided in 2015, 93% of cartons produced in the United States were recycled, today cartons have the highest recycling rate among other packaging.This means that cartons are often used for packing, storing, moving household items and stores.Today, water-based inks are used for graphic printing on corrugated cartons, and lead-based inks are avoided.In addition, the use of high-efficiency corrugated cartons has greatly reduced the base weight and greatly reduced the use of raw materials.
Different cartons are designed and made in the manufacturing industry, each of which has its own application, in the following we will examine them.
RSC(Regular Slotted Container)
Packaging carton is an industry standard box and the most common type of packaging, these boxes are very efficient and can be produced in different sizes.In these boxes, the length of all the fins is the same, usually the two fins are half the width of the box, so that when they are folded, they meet in the center of the box.RCS boxes are the most common type of carton and are used for packaging most products.
HSC (Half Slotted Container)
These boxes are similar to ordinary boxes (RSC), but one side does not have fins.
OSC (Overlap Slotted Container)
In this box, all the fins are the same length and the outer fins overlap by an inch or more.These boxes can be easily closed and the lid can be sewn with glue or a staple.This style of box is usually used when the length of the box is significantly longer than its width, which leads to a large distance between the inner fins. Sealed overlapping fins help prevent the outer fins from coming apart.
FOL (Full Overlap Slotted Container)
In this box, all the fins are the same length. And when it closes, the outer fins completely cover the top and bottom of the box.In this style, the fins create more thickness at the bottom and top of the box, which makes the box more durable, especially during transport, these cardboard boxes are ideal for packing heavy products.These boxes are assembled with glue or staples.
The box has a one-piece floor, usually open on it, and consists of walls that may have fins that are folded or connected by slits.In some of these boxes, the handle is designed on two side walls that are easy to carry.These boxes can also be used as product displays.
(Corrugated Shelf Bin Box)
You may have seen these cartons in the store that are used to display the product. This box is used to organize and introduce products in retail stores.So these shelving boxes usually have two functions: delivering the product safely to stores and attractively displaying the product and brand.In carton making, these boxes are usually called open booths.
These boxes are designed and manufactured according to the customer's needs.The cost of making these boxes may be a bit higher than other boxes, but their precise and unique design can reduce shipping costs. Because it minimizes wasted space during transportation and the most product can be sent each time.